PEDAL TIPS
SATO RACING Rear Sets come standard with Pedal Tips (toe pegs) made of tough black Delrin plastic. We also carry additional styles of Pedal Tips, such as a shorter version of the Delrin Pedal Tips, and aluminum Pedal Tips with rubber grips, in Short and Long styles. Long style is available with either Black or Gold anodized aluminum cores. Short style comes in Gold only. Sold individually.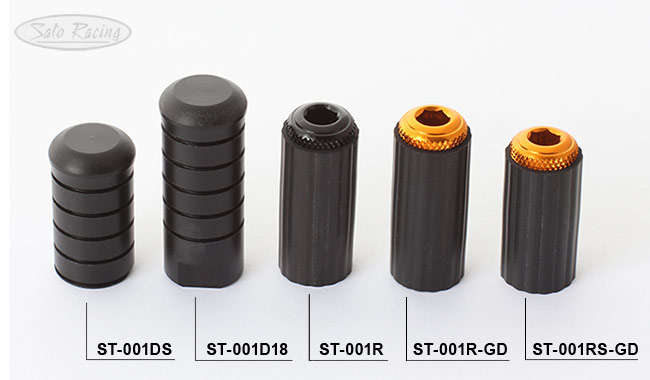 L-R: Short style (DELRIN), Standard type (DELRIN), Long style Aluminum
with Rubber Grip in Black and Gold, and Short style in Gold.
STYLE
QTY: 1
PEDAL TIP - SHORT
(DELRIN)
ST-001DS
$15
STANDARD PEDAL TIP
(DELRIN)
ST-001D18
$15
RUBBER PEDAL TIP - LONG
[BLACK]
ST-001R
$18
RUBBER PEDAL TIP - LONG
[GOLD]
ST-001R-GD
$18
RUBBER PEDAL TIP - SHORT
[GOLD]
ST-001RS-GD
$18
NOTE: Most of our Pedal Tips utilize the pedal tip bolts that come standard with SATO Rear Sets. Bolt is sold separately. See the Parts List for your Rear Sets to find out the bolt size you will need.
(Most current models specify to use Button Head M6-20mm bolt.)
BUTTON HEAD M6-15mm*
BBT-M615
$1.50
BUTTON HEAD M6-20mm
(standard size)
BBT-M620
$1.50
BUTTON HEAD M6-25mm**
BBT-M625
$1.50
LOW SOCKET HEAD M6-20mm***
LSBT-M620
$4.00
* Button Head M6-15mm bolt can be used with our SHORT-style DELRIN Pedal Tip (ST-001DS), or our RUBBER PEDAL TIP (Short or Long style) on rear sets with recessed bolt holes on the back side of the pedal. This size is not recommended for use with our Standard length DELRIN pedal tips (ST-001D18). (The standard M6-20mm bolt is also compatible with our Rubber Pedal Tips)

** Button Head M6-25mm bolt is recommended for certain Sato Rear Sets (mostly earlier models) with pedals that do not have recessed bolt holes. If the holes are recessed on the back of your pedal, in most cases it is best to use the M6-20mm bolt.

*** This bolt type is specified for use with certain 2018 and newer Sato Rear Sets models.
Replacement Rubber Sleeves
RUBBER SLEEVE [SHORT]
for SHORT-style Rubber Pedal Tips +
FOLDING Pedal Tips (original version)
ST-001RS-SL
$4.00
RUBBER SLEEVE [SHORT]
for SHORT-style Rubber Pedal Tips
(new version)
ST-001RS-SL2
$5.00
RUBBER SLEEVE [LONG]
for LONG-style Rubber Pedal Tips
ST-001R-SL
$5.00

More replacement parts for SATO Rear Sets

Home | Rear Sets | Frame Sliders | Axle Sliders | Other Parts | Gear | Replacement Parts | What's New | Contact | Facebook
Search by Model: aprilia | BMW | Ducati | H-D | Honda | Husqvarna | Kawasaki | KTM | Moto Guzzi | MV Agusta | Royal Enfield | Suzuki | Triumph | Yamaha | Other Makes