PEDAL TIPS
Sato Rear Sets come standard with pedal tips made of rugged
Delrin plastic. We now offer some additional pedal tip options: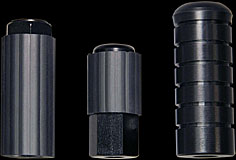 PEDAL TIPS
NOTE: These Pedal Tips utilize the pedal tip bolts that
come with SATO Rear Sets. Bolts are NOT included.
(Contact SATO RACING if you need replacement bolts)
STYLE
QTY: 1
QTY: 2
RUBBER PEDAL TIP - LONG
ST-001R
$18
ST-001R
$36
RUBBER PEDAL TIP - SHORT
ST-001RS
$18
ST-001RS
$36
STANDARD PEDAL TIP
(DELRIN plastic)
ST-001D
$15
ST-001D
$30


FOLDING PEDAL TIP
This stylish Folding-style Pedal Tip is made of aluminum,
with a rubber grip. Stainless steel bolt is included.
(L)-SIDE
ST-001F-L
$35
(R)-SIDE
ST-001F-R
$35
L/R SET
ST-001F
$70

Home | Rear Sets | Frame Sliders | Axle Sliders | SATO Carbon | EX Systems | Other Parts | Accessories | Replacement Parts | What's New | Contact | Facebook | Site Map
Make / Model Index: aprilia | Bimota | BMW | Buell | Ducati | Harley-Davidson | Honda | Kawasaki | KTM | Moto Guzzi | MV Agusta | Suzuki | Triumph | Yamaha