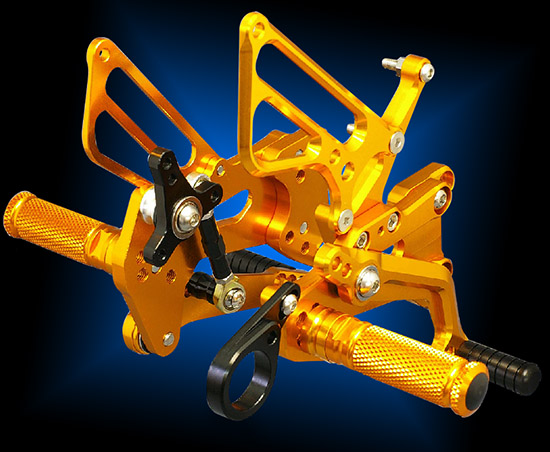 Sato Racing Rear Sets were born from development and testing, not only on the street but also in World GP and All Japan Road Race (Super Bike, GP250, GP125, ST600) for more than 12 seasons. The goal of our rear set production is to give you an excellent design with the best operation and finest quality. We use double miniature stainless ball bearings for the shift and brake levers, for smooth, precise movement that alleviates any looseness or wobble.
| | |
| --- | --- |
| We knurl our footpegs for non-slip characteristics during aggressive riding--- even the GP riders love the non-slip feel! Our pegs are adjustable so that you can choose your best position. Our rear sets are precision made, CAD/CAM/CAE designed and CNC machined. We give them anodized finishes, to prevent oxidizing and scratches. You can choose from Silver (clear), Black and Gold*on most models. | |
You can choose from multi positions !!
Sato Rear Sets feature multiple adjustable positions so that you can find the perfect stance for your size and riding style. The ranges of positions on our Rear Sets are optimized for the track, with most having the capability to move your feet higher up and further back compared to stock. Additionally, many of our Rear Sets can provide a GP-style reverse shifting pattern.
| | |
| --- | --- |
| | Sato Racing Rear Sets are designed and developed using feedback from many experienced racers to be the ultimate rear sets for the track - delivering high performance in as lightweight a package as possible yet durable enough for racing conditions. This lightweight design means we do not recommend them for stunt riding and wheelies. The peg bolts could fail under those conditions and we are not responsible if that happens. If you plan on stunt riding, stick with stock rear sets or get some other (heavier) aftermarket rear sets designed for that purpose. But if you are a serious racer who wants an edge on the competition, Sato Racing Rear Sets are the way to go. |

aprilia Index
Bimota Index
BMW Index
DUCATI Index
HARLEY-DAVIDSON Index
BUELL Index
HONDA Index

KAWASAKI Index
KTM Index
MOTO GUZZI Index
MV AGUSTA Index
SUZUKI Index
TRIUMPH Index
YAMAHA Index

COMMON REAR SETS OPTIONS & REPLACEMENT PARTS


Note: We highly recommend our Rear Sets be installed by someone with experience installing aftermarket rear sets. The instructions that come with SATO Rear Sets are very basic, and assume the installer has done this before. Technical assistance from SATO RACING is fairly limited (our US office is mainly a parts distribution warehouse, not a bike shop). If you feel you may need some handholding, just save yourself a lot of trouble by having a certified mechanic install the Rear Sets.

* Read this before purchasing Sato Racing GOLD-anodized Rear Sets:
Aluminum anodizing is an electrochemical process that increases the thickness of a passive, naturally occurring, protective aluminum oxide film. Without this process, regular aluminum will corrode and become weak. Anodizing provides protection from these effects. One drawback of anodized GOLD is its tendency to fade with prolonged exposure to UV rays. Since this does not affect the primary purpose of anodizing - corrosion protection - Color fading is not covered by the Sato Racing warranty.

Purchasers of Sato Rear Sets in anodized GOLD should also be aware that the shade of gold anodizing may vary noticeably from part to part. In addition, GOLD Sato parts are anodized in a unique tone of gold (deep, with hints of orange/ copper) that likely won't be an exact match with other anodized gold parts you may already have on your bike from other manufacturers. Sato Racing will not accept warranty returns on GOLD Rear Sets in situations where someone installs the Rear Sets, THEN decides they don't like the shade of gold. So if you decide to go with the gold, it should be with the full understanding of these limitations of gold anodizing.


SATO RACING offers a full selection of Replacement Parts for our Rear Sets.
* * * Contact us to place an order * * *
Individual part numbers can be found on the illustrated parts lists included with our
Rear Sets. Parts lists are also available as downloadable PDF files here: Rear Sets Parts Lists


Home | What's New | Frame Sliders | Axle Sliders | SATO Carbon | Other Parts | EX Systems | Accessories | Replacement Parts | Contact | Facebook | Site Map
Search By Model: aprilia | Bimota | BMW | Buell | Ducati | H-D | Honda | Husqvarna | Kawasaki | KTM | Moto Guzzi | MV Agusta | Suzuki | Triumph | Yamaha