YAMAHA YZF-R3 ('15-'22)
(YZF-R25 / MT-03 / MT-25)
REAR SETS (Standard version)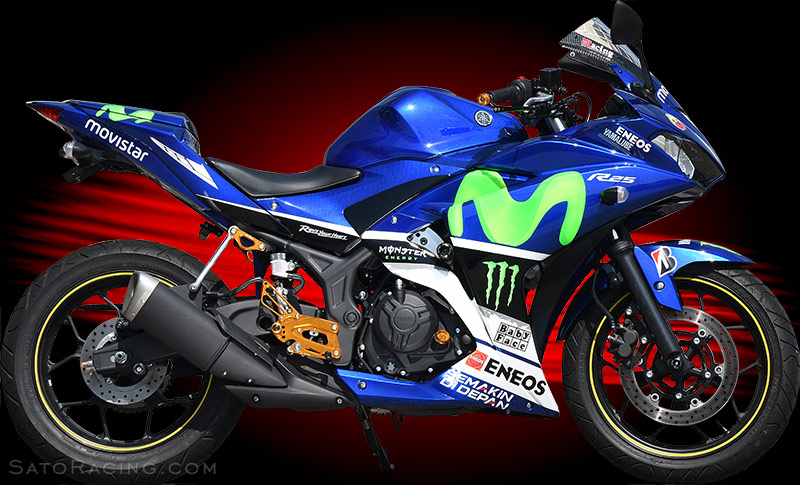 SATO RACING Rear Sets (standard version) for 2015-22 YZF-R3 (along with non-US models R25/ MT-25/ MT-03) features a thoroughly track-proven design, with components precision CNC-machined from high strength anodized billet aluminum for maximum durability. 5 adjustable foot peg positions bring your feet significantly higher up and further back compared to stock, for enhanced control and improved handling at the limit. These Rear Sets can be set up for stock shift pattern or reverse (GP-style) shift patttern. 'Street'-friendly design - Compatible with the stock brake light switch and ABS. Fits gen1 and gen2 R3. Choice of deep Black or vivid Gold anodized finish.

Also available from SATO RACING: 'Race Concept' Racing Rear Sets for R3.
POSITIONS
1
47.5mm Back
(1.9" Back)
37.5mm Up
(1.5" Up)
2
47.5mm Back
(1.9" Back)
50mm Up
(2" Up)
3
60mm Back
(2.4" Back)
50mm Up
(2" Up)
4
47.5mm Back
(1.9" Back)
62.5mm Up
(2.5" Up)
5
60mm Back
(2.4" Back)
62.5mm Up
(2.5" Up)
note: all measurements are in relation to stock position (0 mm).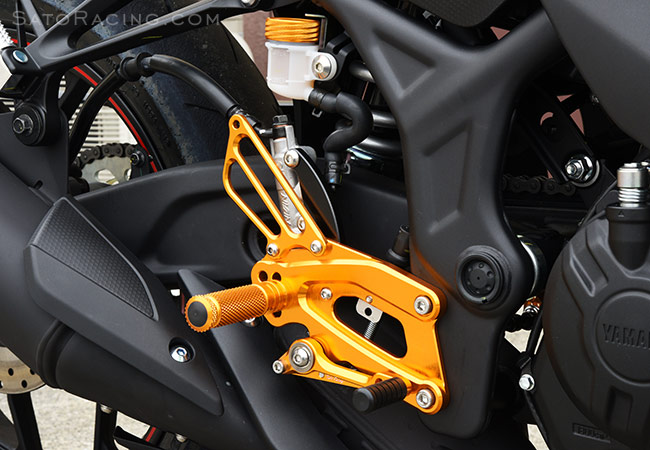 The shift and brake pedals have miniature double stainless bearings for smooth, precise
lever action with a solid feel. There are 5 possible mount positions for the Foot Peg, so
you can find the ideal position for your riding style. The Pedal Tip is also adjustable.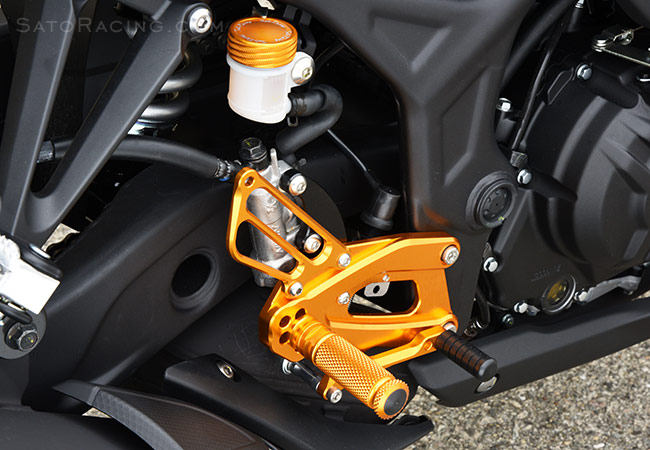 The Foot Pegs have a finely knurled pattern for great grip, along with a comfortable, intuitive
feel. A fixed step plate design enables compatibility with the stock brake switch and ABS.
(Also shown in photo: Brake Fluid Reservoir Cap part# FC-N38-G, available separately.)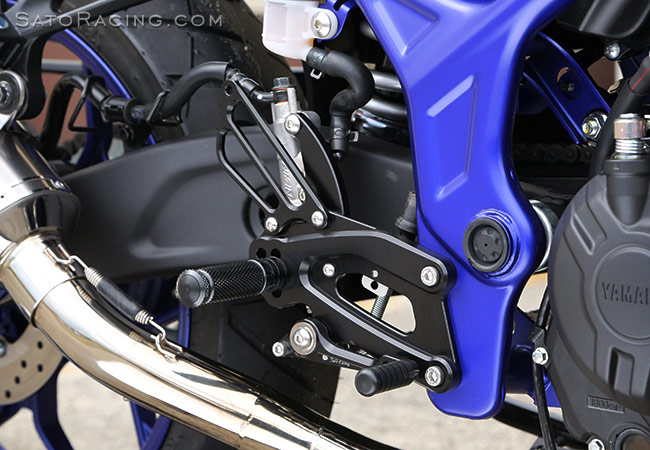 BLACK Rear Sets, shown installed on a Japan-spec Yamaha MT-25 (similar to the MT-03).
These Rear Sets are compatible with YZF-R25, MT-25 and MT-03, in addition to the R3.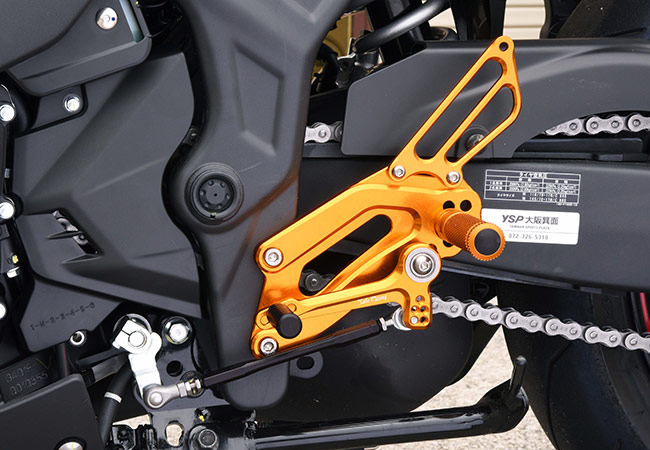 The shift pedal has multiple adjustment points for fine-tuning the shifter feel.
To change to reverse (GP-style) shift pattern, flip the change arm 180 degrees.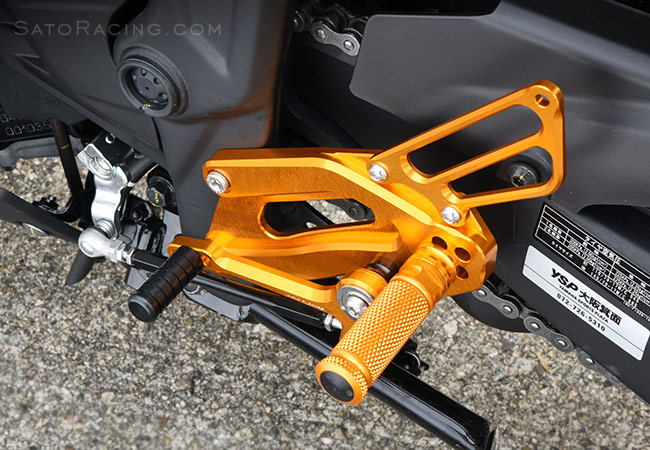 The standard Pedal Tips are made of tough Delrin plastic. Additional Pedal Tip styles,
such as aluminum Pedal Tips with fluted rubber sleeves, are an available option: Details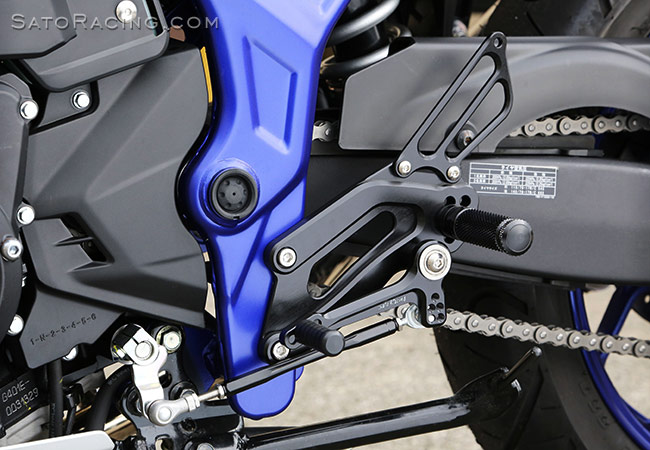 Rear Sets installed on a Yamaha MT-25 (gen1 MT-03)
YouTube channel Motonosity did a build project with a 2015 R3 and they used our R3 Rear Sets. The whole build series is well worth watching, since you get to see a stock R3 get completely taken apart and then gradually re-assembled and transformed into a cool-looking streetfighter-style custom, but check out Part 11 in particular for a nice step-by-step walk-through for installing these Rear Sets: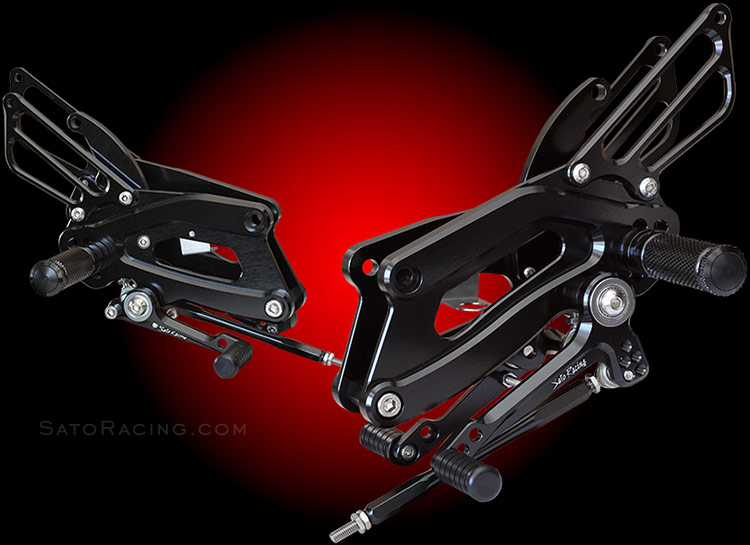 BLACK
Y-R3RS-BK
$515
GOLD *
Y-R3RS-GD
$515
* Click Here for important info about Sato GOLD-anodized parts.

OPTIONS



Cutout-style FOOT PEG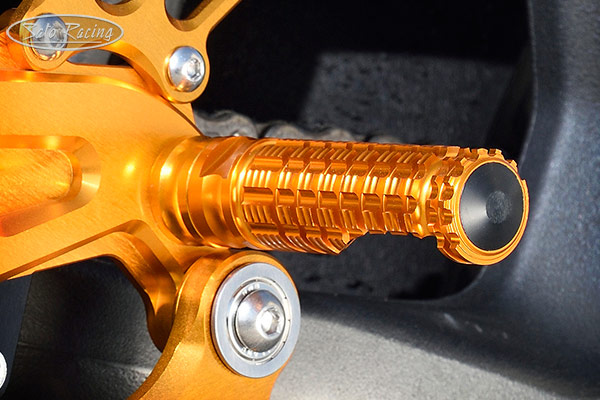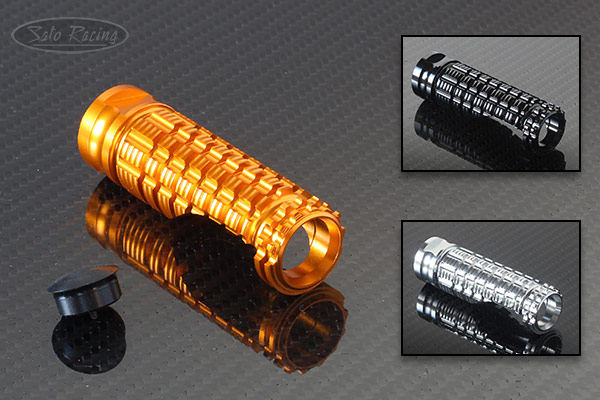 This super-lightweight anodized billet aluminum peg for competition use* features a rectangular-motif grip pattern. An End Cap made of abrasion-resistant black Delrin is included.

* NOTE: Due to the lightweight hollowed-out design, these pegs are intended for track use only. Not recommended for heavier riders or stunting purposes.
Race Concept Cutout-style FOOT PEG (Sold individually)
BLACK
RCPEG-BK
$48
GOLD *
RCPEG-GD
$48
* Click Here for important info about Sato GOLD-anodized parts.
Have questions or prefer to order by phone? You can call us to place an order -



REPLACEMENT PARTS
SATO RACING offers a full selection of Replacement Parts for our Rear Sets.
* * * Contact us to place an order * * *
To find out individual part names & numbers, see the illustrated parts list
included with your Sato Racing Rear Sets, or view the PDF: Parts List
Some replacement parts for these Rear Sets
can be purchased in our online store:
FOOT PEG [BLACK]
PEG-BK
$42
FOOT PEG [GOLD]
PEG-GD
$42
PEDAL TIP (DELRIN)
ST-001D18
$15
SHIFT ROD 135 [BLACK]
(#7)
SRD-135-B
$35
PEG COLLAR 12 [BLACK]
(#14)
PEGCLR-12B
$15
PEG COLLAR 12 [GOLD]
(#14)
PEGCLR-12G
$15
ROD END COLLAR 3
(#15)
RDED-CLR3
$6.00
SOCKET HEAD M5-40mm
(#17)
SBT-M540
$2.00
SOCKET HEAD M6-20mm
(#18)
SBT-M620
$1.50
SOCKET HEAD M6-55mm
(#19)
SBT-M655
$3.00
SOCKET HEAD M8-20mm
(#20)
SBT-M820
$1.50
BUTTON HEAD M6-10mm
(#21)
BBT-M610
$1.50
BUTTON HEAD M6-15mm
(#22)
BBT-M615
$1.50
BUTTON HEAD M6-20mm
(#23)
BBT-M620
$1.50
BUTTON HEAD M8-20mm
(#24)
BBT-M820
$1.50
BUTTON HEAD M8-25mm
(#25)
BBT-M825
$1.50
BUTTON HEAD M8-40mm
(#26)
BBT-M840
$2.00
STUD M6
(#28)
STUD-M6
$2.50
STUD BOLT M8-45mm
(#29)
STBT-45
$4.50
PEG WASHER - M8
(#30)
PWS-8
$1.00
NUT M5 (#31)
NUT-5
$1.50
LOCK NUT M6
(#32)
LNT-6
$1.50
JAM NUT M6
(#33)
JNT-6
$1.75
REVERSE JAM NUT M6
(#34)
JNT-6L
$2.50
FLANGE NUT M8
(#35)
FNT-8
$1.50
M6 MALE
REVERSE ROD END
(#37)
RDED-M6L
$12.50
MALE ROD END M6
(#38)
RDED-M6
$12.50
(For replacement parts not listed on our website, contact Sato Racing for an estimate.)

More Sato Racing items for YZF-R3