HONDA GROM ('16-'20)
REAR SETS + TANDEM BRACKETS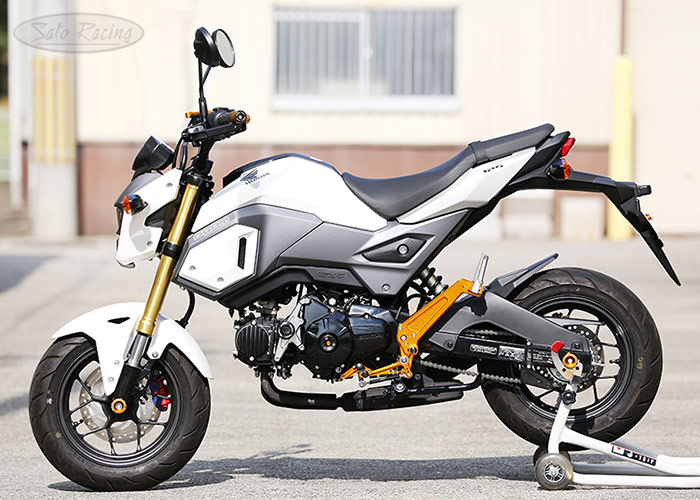 SATO RACING Rear Sets + Tandem Brackets for 2016-20 Honda GROM features a track-engineered design, with components precision CNC-machined out of high strength billet aluminum and anodized in your choice of deep Black or vivid Gold finish. You can select from 2 foot peg positions that place your feet higher up and significantly further back compared to the stock foot position, for a less upright position well-suited for spirited riding. These Rear Sets are compatible with the stock rear brake light switch and stock exhaust canister, and also include integrated Tandem Brackets to attach the stock passenger pegs.

2 versions of these Rear Sets are now available: The standard version, which has a stock shift pattern, and Reverse Shift Rear Sets, which provides a dedicated GP-style reverse shift pattern. Both types are available in your choice of Black or Gold anodized finish.

We also offer an optional Shift Spindle Holder that works well with these Rear Sets, reducing play in the shift spindle for more precise shift action.

Also check out our original Grom Rear Sets, which shares the same basic design but omits the tandem brackets, ideal for riders who don't regularly carry passengers.
POSITIONS
1
87.5mm Back
(3.44" Back)
37.5mm Up
(1.48" Up)
2
100mm Back
(3.93" Back)
37.5mm Up
(1.48" Up)
note: all measurements are in relation to stock position (0 mm).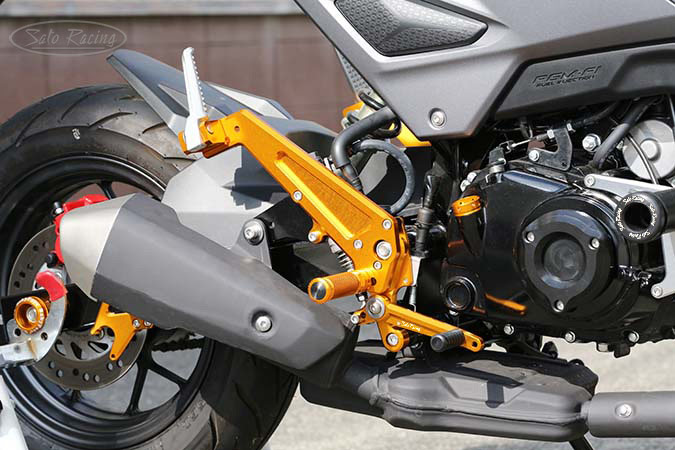 You can adjust the position of the Foot Pegs 2 ways. The Pedal Tip position is also adjustable.

The standard Pedal Tips are made of tough Delrin plastic. Additional Pedal Tip styles, such as
aluminum Pedal Tips with rubber sleeves, are an available option: More Details.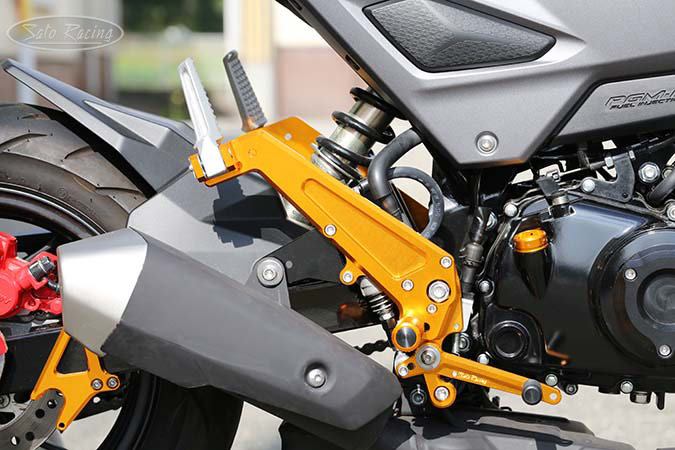 The Foot Pegs have a finely knurled pattern for excellent grip, along with a comfortable, intuitive feel. The Tandem Brackets are designed for use with the stock Grom passenger pegs. (NOTE: Minor modifications to the OEM passenger peg pivot hardware will be necessary to use the passenger pegs with our Rear Sets).

These Rear Sets are compatible with the stock pull switch for the rear brake light.

Rear Sets kit also includes a hanger for the stock exhaust canister. (Exhaust hanger might need additional hardware to be compatible with some aftermarket exhausts).

( Rear Sets shown installed with optional Brake Return Spring ).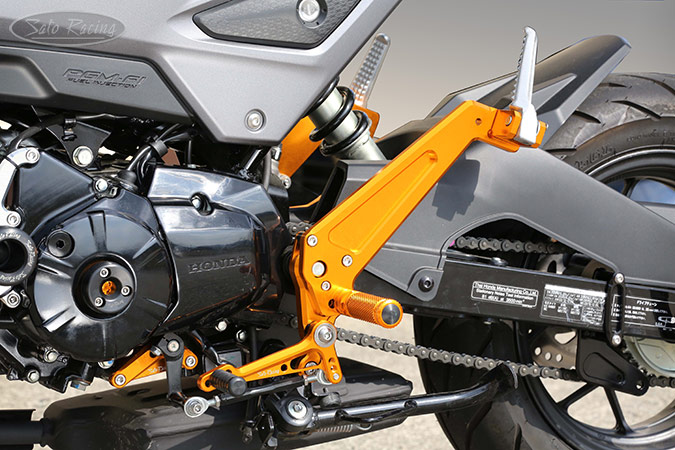 Rear Sets (standard version) - provides a dedicated stock shifting pattern.
Shown installed with the optional Shift Spindle Holder.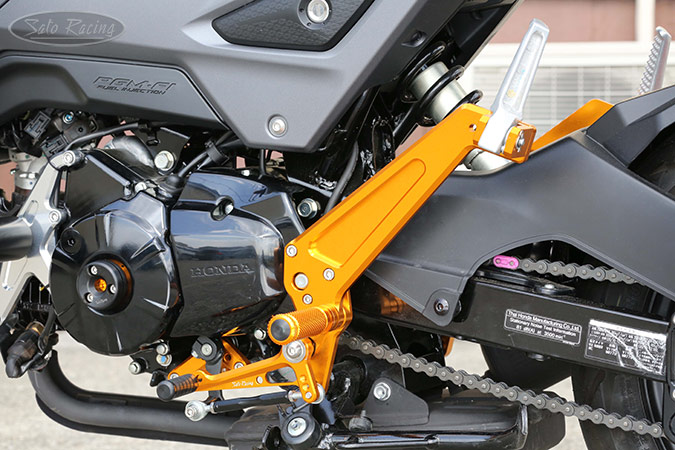 The shift and brake levers utilize miniature double stainless
bearings for smooth, precise movement with a solid feel.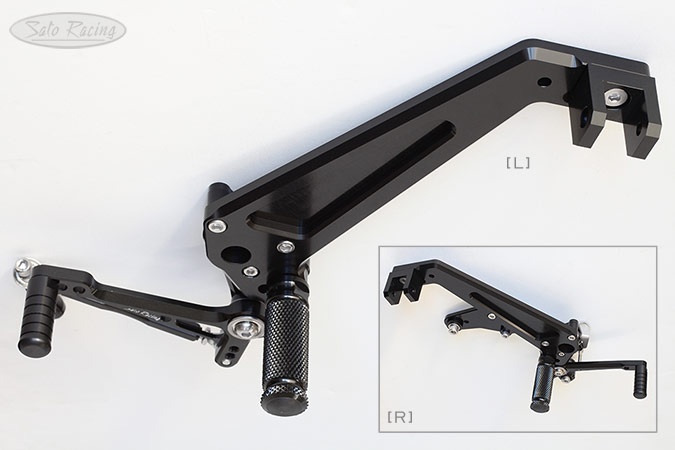 Rear Sets (Standard Shift) in BLACK anodized finish.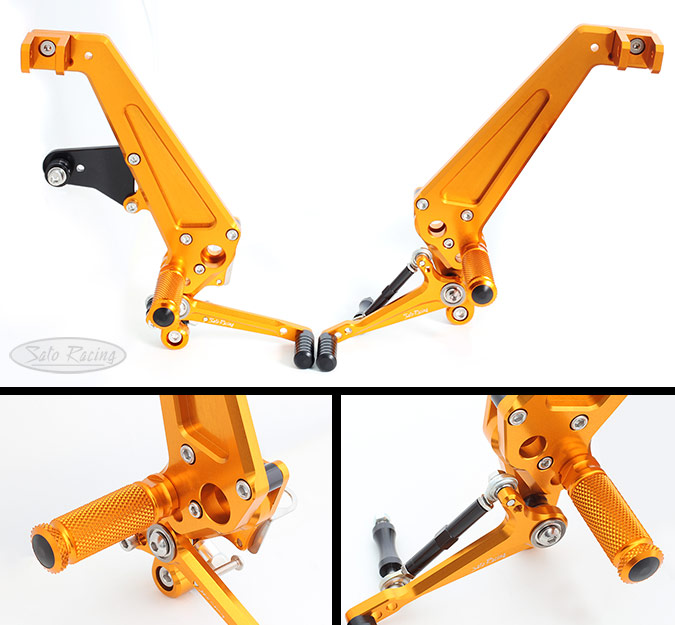 Reverse Shift Rear Sets in GOLD anodized finish. This model features
a different shifter design for a dedicated reverse (GP style) shift pattern.
Rear Sets + Tandem Brackets
(Stock shift pattern)
BLACK
H-GROM16RST-BK
$700
GOLD *
H-GROM16RST-GD
$700
Reverse Shift Rear Sets + Tandem Brackets
BLACK
H-GROM16RSTR-BK
$700
GOLD
H-GROM16RSTR-GD
$700
Click Here for important info about Sato color-anodized parts.

OPTIONS

HONDA GROM / MONKEY 125
SHIFT SPINDLE HOLDER
SATO RACING Shift Spindle Holder for 2013-20 Honda GROM / MSX125 and 2018-21 Monkey 125 adds strength and rigidity to the shift rod linkage by reducing play in the shift spindle, for more consistent and precise shifting and extra durability in heavy-duty use. Gold anodized billet aluminum with a Teflon inner bushing.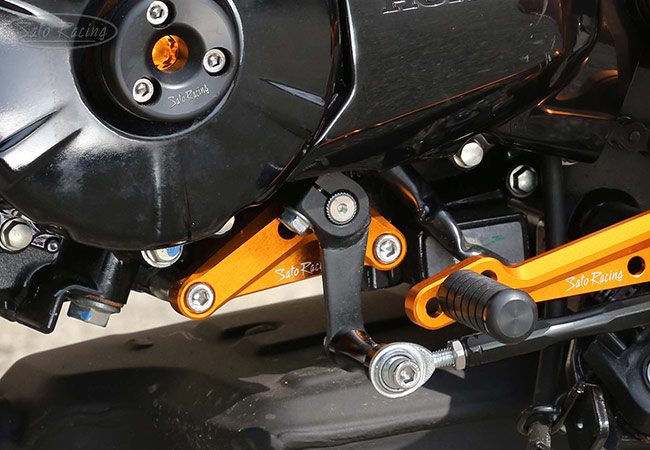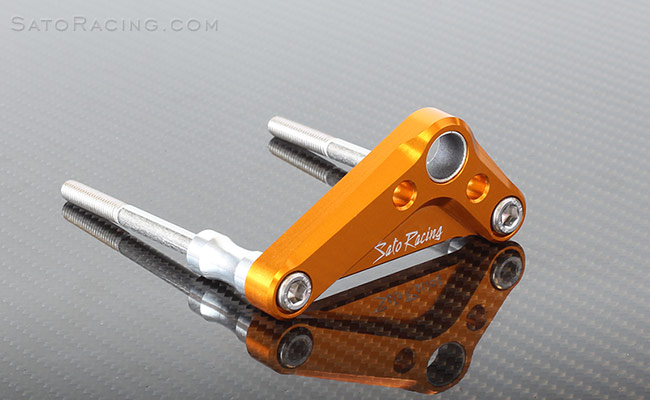 GOLD
H-GROMRS-SHDR
$85

BRAKE RETURN SPRING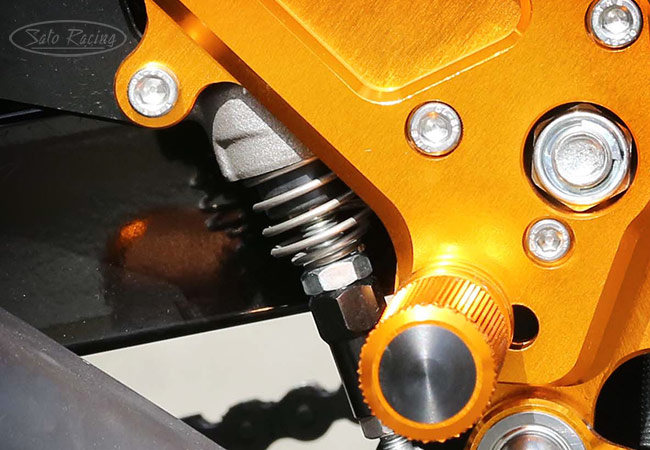 SATO RACING Brake Return Spring quickens the brake pedal return and may make the pedal feel heavier and more responsive compared to no spring. This spring is not a requirement with our Grom Rear Sets, but some riders may prefer the stiffer brake pedal feel with the spring in place.
RETURN SPRING
RS-RSP
$8.00
Have questions or prefer to order by phone? You can call us to place an order -



SATO RACING offers a full selection of replacement parts for our Rear Sets.
* * * Contact us to place an order * * *
To find indvidual part names and numbers, see the illustrated
parts list included with your Sato Racing Rear Sets.

More Sato Racing items for 2016-20 GROM