SUZUKI GSX1300R HAYABUSA ('99-'12)
Drag Style Rear Sets
- Use with drag-style exhaust only. Does not work with stock exhaust. -

( Click HERE for our standard version Hayabusa Rear Sets )
SATO RACING Drag-style Rear Sets for '99-'12 Hayabusa are made of billet aluminum with a deep Black anodized finish. The shift and brake pedals have double stainless bearings for smooth, precise movement. Deeply knurled footpegs provide great grip even in wet conditions. The 10 positions provided by these Rear Sets are in an adjustment range optimized for drag racing, moving your feet lower and and further back compared to stock.
10 ADJUSTABLE POSITIONS
| | | |
| --- | --- | --- |
| min | 30mm Down | 5mm Back |
| max | 40mm Down | 25mm Back |
Note: the following install pics show an earlier version of these Rear Sets. The pedal design and some other details of the newer version are slightly different. Also, these Rear Sets are no longer available in Silver.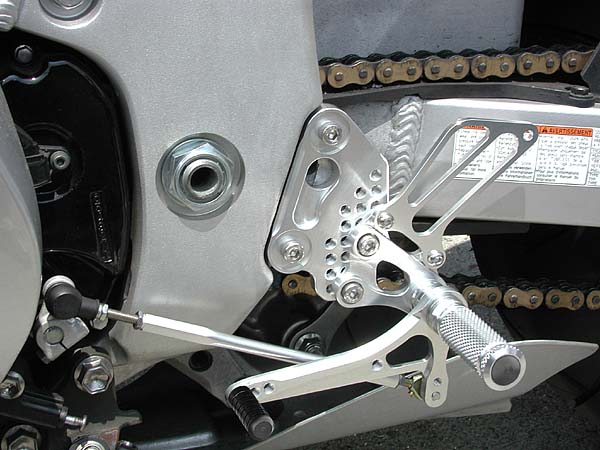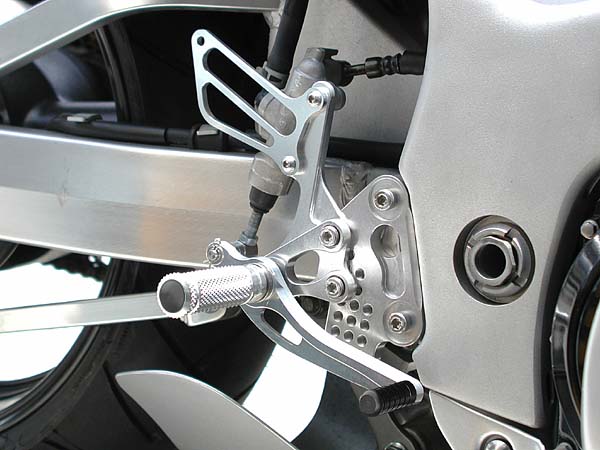 BLACK
S-GSX13DRS-BK
$545
Refurbished Rear Sets
(Demo or Returned Item. Like new, but may have some minor scratches.)
GOLD
RFB-S-GSX13DRS-GD
$495
Not intended for street use; No brake light switch is included with kit.

SATO RACING offers a full selection of Replacement Parts for our Rear Sets.
* * * Contact us to place an order * * *
To find out individual part names & numbers, see the illustrated parts list
included with your Sato Rear Sets, or download the PDF: Parts List

More Sato Racing items for GSX1300R Hayabusa